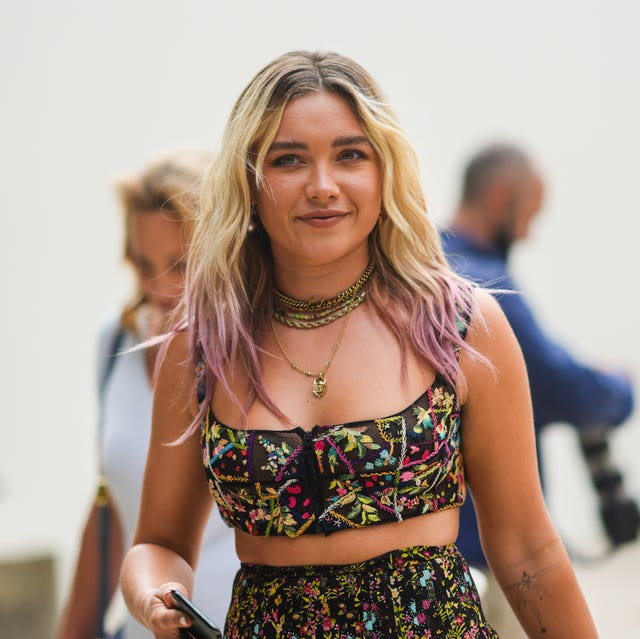 Edward BerthelotGetty Images
There's a reason Florence Pugh is one of the most booked-and-busy actresses in Hollywood right now.
Known for her natural onscreen charisma (and that signature frown), Pugh is one of the best actresses working today. The star's next few years are currently crowded with leading roles in a string of buzzy upcoming projects, like playing Princess Irulan Corrino in the highly anticipated sequel of dune and starring in Olivia Wilde's psychological thriller, Don't Worry Darling.
While we attempt to patiently wait for the release of her forthcoming films, keep yourself busy by taking a look back at her versatile résumé. Scroll on to read all about the top 10 best movies under Pugh's belt.
Advertisement – Continue Reading Below
1
The Falling
Florence Pugh makes her electric feature film debut in Carol Morley's mystery drama The Falling. Pugh and Game of Thrones star Maisie Williams play best friends Abbie and Lydia, students at an English all-girls school that has been overcome by an epidemic of fainting spell episodes.
Watch Now
2
Lady Macbeth
Set in 19th-century rural England, the film stars Pugh as Katherine, a woman who engages in a passionate affair with a man who works on her cruel husband's estate. In the dark and erotic drama, which was nominated for two BAFTAs, Katherine is ruthless in her murdering rampage, ultimately paying homage to the Shakespearean character the movie takes its name from.
Watch Now
3
The Commuter
Pugh has a supporting role in this 2018 action-packed thriller, which stars Liam Neeson, who plays a former cop and current insurance salesman. For her brief stint in the movie, she delivers a subtle performance as a goth girl named Gwen, who is being forced to carry her abusive boyfriend's stash of fake IDs.
Watch Now
4
King Lear
King Lear, a television film that adapts one of Shakespeare's most famous plays into a grim tale set in a dystopic modern-day London, marked one of Pugh's early breakout roles in Hollywood. She plays Cordelia, the youngest daughter of the titular King Lear, played by the prolific Anthony Hopkins.
Watch Now
5
Outlaw King
Pugh joins the star-studded cast of Outlaw King to play Elizabeth de Burgh, the wife of the 14th-century Scottish king Robert the Bruce, played by Chris Pine. The film follows Bruce's attempt to overthrow the English monarchy's rule over Scotland and claim the throne for himself. The additional starring talents of Aaron Taylor-Johnson and Tony Curran—among others—make for a revealing and epic two hours.
Watch Now
6
malevolent
Pugh tries her hand at the horror genre in this 2018 Olaf de Fleur Johannesson–directed film. She plays one half of a brother-sister duo who team up to scam people into paying for their fake paranormal encounter services. The siblings are hired to take on a haunted country mansion, where—expectedly—things take a ghostly turn for the worst.
Watch Now
7
Fighting with My Family
Based on the documentary The Wrestlers: Fighting with My Family, this 2019 sports biographical film portrays the journey and career of professional WWE wrestler Paige and her brother, Zak Zodiac. The surprisingly heartwarming movie gives Pugh a chance to shine through with some of her more tender and comedic acting skills.
Watch Now
8
Midsommar
Midsommar is arguably the film that launched Pugh from indie film darling to household name. She gives a transcendent performance as Dani, an American student who accompanies her boyfriend (played by Jack Reynor) to a midsummer celebration on a Swedish commune. Though pegged as an unconventional folk horror film, Midsommar also conveys a compelling message about grief and the breakdown of intimacy.
Watch Now
9
Little Women
Pugh was given the nearly impossible task of making Amy March—the youngest sister from the Louisa May Alcott novel and the least revered (or most vehemently abhorred) character—likable. And, yet, she does. Under Greta Gerwig's direction, Pugh transforms the oft-belittled Amy into a leading lady worth rooting for (see: her iconic "I'm Just a Woman" monologue delivered in the latter half of the film). If that's not enough to convince you to watch, maybe the costarring talents of Saoirse Ronan, Meryl Streep, and Timothée Chalamet will.
Watch Now
10
Black Widow
Pugh has entered the Marvel Cinematic Universe as the intimidating yet ultimately endearing younger sister of Scarlett Johansson's Natasha Romanoff, Yelena Belova. Black Widow is set after the events of Captain America: Civil War, in which Natasha embarks on a journey to confront her past and unwittingly reunite with her long-lost sister. Stranger ThingsDavid Harbor is also in the movie, playing a Russian super-soldier who acted as a father figure to Natasha and Yelena.
Watch Now
This content is created and maintained by a third party, and imported onto this page to help users provide their email addresses. You may be able to find more information about this and similar content at piano.io
Advertisement – Continue Reading Below