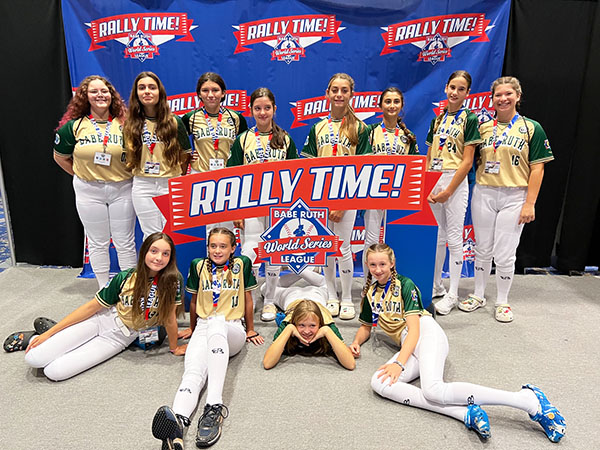 From July 19 through July 27, 12 young, female, fast-pitch softball players from Royal Palm Beach were in pursuit of a World Series title at the Babe Ruth Softball World Series.
This Royal Palm Beach-based 12U team — which won the Florida State Babe Ruth Softball Championship in Lake City back in June and is affiliated with the Youth Baseball Association of Royal Palm Beach — traveled to Pineapple Park in Jensen Beach to play in a 14- team tournament that featured squads from Puerto Rico, Alabama, Massachusetts, Delaware, Kentucky, Florida, Louisiana, Texas, Pennsylvania, Indiana, Virginia and North Carolina.
Led by manager Ed Bianco, a resident of Royal Palm Beach, the team compiled a winning record (five wins and three losses) and concluded the competition in sixth place.
The 12 players on the team were: Ella Bianco (the manager's daughter), Ella Mae Lipp, Gabi De Los Reyes, Kylie Zimmerman, Gianna Rettas, Jamie McCarroll, Ella Orta, Emilie Fox, Olivia Sbei, Gianna Tarducci, Sara Spidalieri and Victoria Wessman, who was unable to play due to an injury.
According to Bianco, several players offered key roles in the team's overall success.
Bianco's daughter Ella led by example.
"Ella was our best all-around player," Bianco said. "She can play any position, she can pitch, and she is fast on the base paths."
Gianna Rettas is a pitcher who shuts down the opposition late in many games.
"Gianna is our closer," Bianco said. "On the mound, she has ice in her veins."
Bianco feels that Ella Mae Lipp was a strong hitter and equally talented on defense.
"Ella Mae Lipp was our most improved player," he said. "She was our starting shortstop and batted third in our lineup."
Gabi De Los Reyes was strong on the pitcher's mound and in the batter's box.
"Gabi is a big-game pitcher and has a big-time bat," Bianco said.
Kylie Zimmerman was one of the team's more vocal leaders, who could boost the team's energy level.
"Kylie was a team leader who had an energizing presence," Bianco explained.
The future is strong for softball at local high schools, as many of these players will migrate to the high school level soon, since all the girls on the Royal Palm Beach squad currently attend school and play softball at Crestwood Middle School in Royal Palm Beach or Wellington Landings Middle School in Wellington.