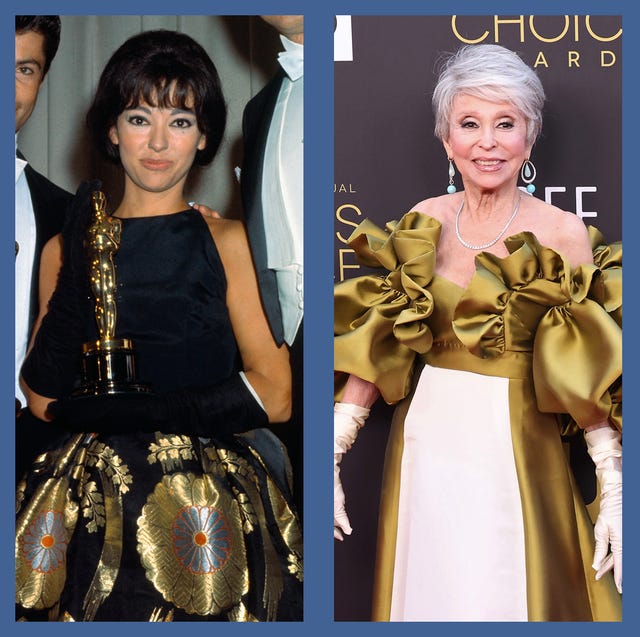 Singer, dancer, actress, and all around icon—it's hard to think of anything that EGOT winner Rita Moreno can't do. In her 70+ year career, the star has stunned in film and television—and on the red carpet too, proving time after time that glamor and good taste truly have no age limit. Here, we take a look back at some of her most stand-out red carpet style moments.
Advertisement – Continue Reading Below
September 1, 1954
Moreno wore this glam, chiffon gown and elbow-length gloves to the 1954 movie premiere of the film The Egyptian.
Apr 9, 1962
To receive her Best Supporting Actress Oscar for her role in west side story, Moreno gleamed in gold and black alongside fellow winner George Chakiris and Rock Hudson.
September 17, 1978
Moreno embraced a printed look—and her second Emmy—in 1978, winning Best Lead Actress for a Single Appearance in a Drama or Comedy Series for an episode of The Rockford Files.
March 29, 1987
At the 59th Annual Academy Awards, Moreno looked statuesque in espresso-colored satin.
Apr 27, 1994
Moreno went for a bit of drama with this shimmering, bustier-topped look at the premiere of That's Entertainment III at Mann's National Theater.
Oct 5, 2001
For the 40th anniversary of West Side Story, Moreno attended a screening of the film at Radio City Music Hall in this fringed, floral fuchsia number.
June 9, 2011
In a fun play on masculine and feminine styling, Moreno wore this metallic-studded combo with a silver blazer and top paired with wide-legged striped slacks at the 2011 AFI Lifetime Achievement Awards.
Nov 15, 2011
Moreno continued her bid for suit-influencer status with a sequined black and white look at the 50th anniversary screening of West Side Story at Grauman's Chinese Theatre.
January 18, 2014
Moreno wore a classic black and gold gown with an embellished leather jacket to the 20th Annual Screen Actors Guild Awards.
April 12, 2014
In a dynamic rewear moment, Moreno wore the same leather jacket she attended the SAG Awards in with leather pants and a lace top for the 25th Annual GLAAD Media Awards.
Nov 19, 2015
At the 16th Annual Latin GRAMMY Awards, Moreno was black and white and chic all over.
Dec 5, 2015
To be celebrated for at 38th Annual Kennedy Center Honors, Moreno wore a classic one-shoulder white gown.
May 1, 2016
At the 2016 Daytime Emmy Awards, Moreno wore palazzo pants and a white blazer with a glittering top and statement jewelry.
September 17, 2017
Moreno attended the Primetime Emmy Awards in this dynamic combination of a black bolero and white gown with a red statement necklace.
January 21, 2018
At the Screen Actors Guild Awards in 2018, Moreno opted for a red gown with ruffled sleeves.
March 4, 2018
In a serious power move, Moreno rewore the dress she wore to receive her 1962 Oscar 56 years later at the 2018 Academy Awards.
February 07, 2019
Moreno showed off the power of statement jewelry with this understated gray outfit with a circular pendant at the premiere of Netflix's One Day At A Time season three.
May 18, 2019
Ever a fan of the blazer and slacks combo, Moreno infused some color with a hot pink jacket at the 78th Annual Peabody Awards.
January 12, 2020
Moreno sported an embellished jacket and red dress to the 25th Annual Critics' Choice Awards.
April 25, 2021
Moreno attended the 93rd Annual Academy Awards in a burgundy gown topped with a matching coat.
Nov 29, 2021
Moreno brought the glitz in this long black number at the West Side Story premiere in 2021 in New York City.
Dec 07, 2021
Moreno shined in gold for the Los Angeles premiere of West Side Story in 2021.
March 12, 2022
For the Directors Guild of America Awards, Moreno donned this cream three-piece suit with metallic embellishment below the knee.
March 13, 2022
At the 27th Annual Critics Choice Awards, Moreno looked regal in a gold and cream gown.
March 19, 2022
At the 33rd Annual Producers Guild Awards Moreno added a touch of drama with blush puff sleeves and a matching cape on her black gown.
March 27, 2022
The one & only Rita Moreno showed up at the 2022 Oscars in a stunning Carolina Herrera gown and feathered headpiece—the same one she wore on T&C's March cover.
This content is created and maintained by a third party, and imported onto this page to help users provide their email addresses. You may be able to find more information about this and similar content at piano.io
Advertisement – Continue Reading Below