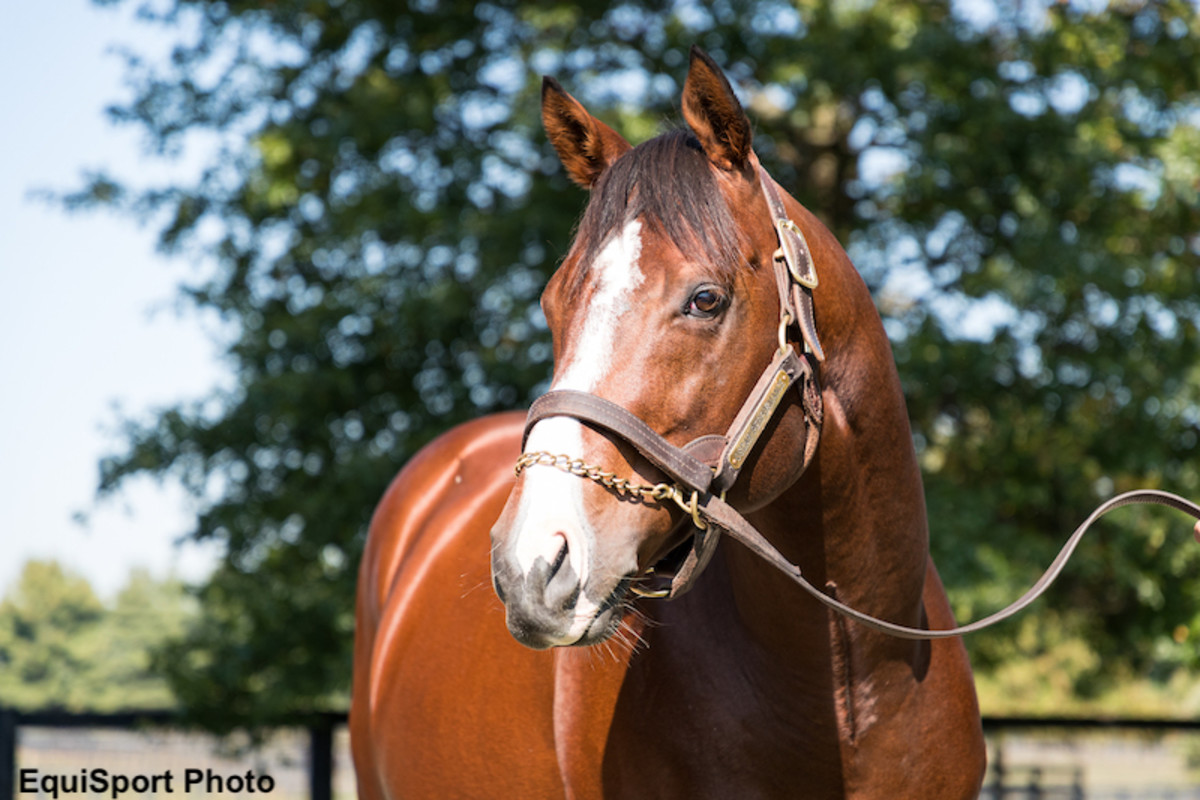 Oscar Performance at Mill Ridge Farm 10.07.20.
As the summer rolls on, and more racetracks card more races for juveniles, the hunt for the coveted freshman sire title begins to take shape with a set of early leaders.
Though the general freshman title typically gets the headlines, there are plenty of other races within the rookie class that can provide a glimpse at what the future might hold for the young sires.
As a winner of the Breeders' Cup Juvenile Turf during his own racing career, Oscar Performance has the prior form to suggest his first crop of juveniles might have some precocity over the grass, and so far, that has proven to be true. The resident of Mill Ridge Farm in Lexington, Ky., is the leading freshman sire by turf starters, turf winners, and turf earnings through Aug. 8.
Oscar Performance has had 15 turf starters through the first week of August, with three winners, and combined progeny earnings on the surface of $169,574, holding off current leading general freshman sire Sharp Azteca, with $163,645 on the grass.
Price Bell of Mill Ridge Farm acknowledged that the heart of the turf schedule for 2-year-olds is still to come, but being on top through the key summer meets shows that the Oscar Performance juveniles are doing what's expected of them.
"We don't write that many 2-year-old turf races in this country, and then when Churchill Downs had the challenges they had with their turf track, it throws it off even more," he said. "Now, we're starting to get more turf races being written, and hopefully more entries and more results. Kentucky Downs is around the corner, and that's the stuff you dream about. The next 60 days will be really important.
"We had the pleasure to raise quite a few, and we always felt like they had class and quality, but once they leave our hands, you never really know," Bell continued. "The 2-year-old people that got them liked them and felt positive, and trainers that got them have liked them. It's all hope, really, after it gets started, and we continue to be hopeful."
Oscar Performance's standout turf runner through early August has been Lachaise, a ridgling who won a 1 1/16-mile maiden special weight over the inner turf at Saratoga Race Course on Aug. 4.
A win in the right place at the right time can be a significant driver of commerce in the commercial marketplace, and a win at one of the meets watched and coveted by practically every major breeder or buyer helped drive traffic to the Mill Ridge barn on the sale grounds across the street from the track.
"Last year, even though it was his first crop, it had been a long time since racetrackers, owners and trainers had seen Oscar Performance," Bell said. "Now, to hear about them training and winning, people are saying 'I want to see that horse.' Timing is everything, and it was perfect timing."
Lachaise's win emulated his sire, who broke his maiden in Saratoga as a juvenile at the same distance by 10 1/4 lengths. Oscar Performance would go on to win that season's Breeders' Cup Juvenile Turf at Santa Anita Park; the first of his four career Grade 1 victories.
Though Oscar Performance was himself a turf star, and his runners have shown a propensity for the surface, his highest-profile runner to date has yet to compete on the grass.
[Story Continues Below]
Andthewinneris, a homebred for Susan Moulton, overcame a slow start to win an April maiden special weight at Keeneland by two lengths, then he finished third in the listed Bashford Manor Stakes on the main course at Churchill Downs.
Bell said the Bashford Manor start was more about timing than surface, but it ended up showing that the sire is not limited by what's under the feet of his runners.
"They needed to run him, and the Bashford Manor came up with six entries," Bell said. "He'd been training well enough on the dirt, and the rider made a move to win the race, and he ran into a very good horse. He moved at the top of the turn to not let the horse get away, and he got tired. It was really game."
Andthewinneris is being targeted for a stakes race over the Saratoga turf for his next start.
Though the colt will be headed to what is likely his natural surface for his next start, Bell said the physical makeup of the Oscar Performance runners so far suggests he could have a future as a dual-threat sire.
"He's thrown a really nice balance to him," Bell said. "I don't think they look turfy. Sometimes, some horses will get set in their hocks and they're good long-distance turf horses. He doesn't have that look. They've got good balance, good strength, and they look like nice horses – not just nice turf horses. I think 'turf' is a four-letter word at times, and the offspring have just been nice horses."