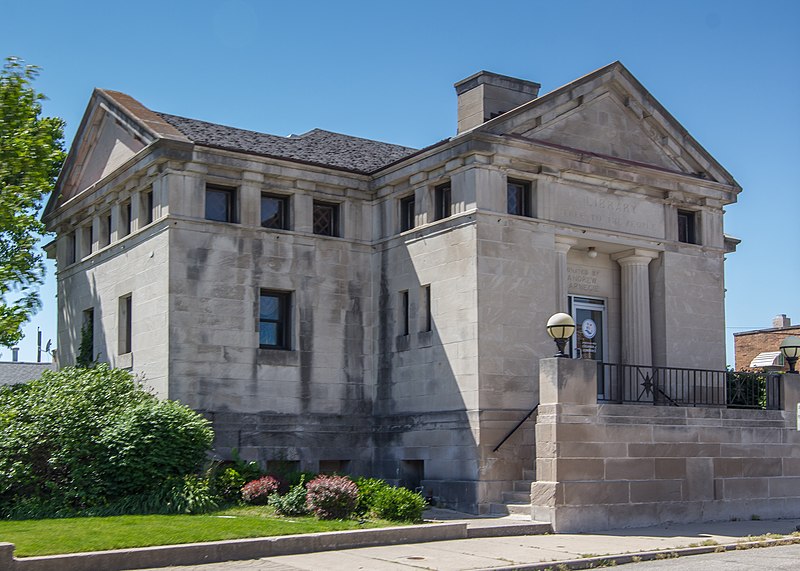 A long-vacant, historic Berrien County building is coming back to life to bring laughter to Southwest Michigan.
The old Niles Carnegie Library has been purchased for $100, and new owners Sheila and Karl Koebel have plans to transform the building into a comedy club and speakeasy lounge. The city of Niles approved the purchase at Monday's city council meeting.
"They loved it," said Sheila Koebel, adding the entire process with the city has taken about five months. "It was unanimous. … I said I wanted to close before labor day so I can get ripping and tearing and getting everything going."
The Niles Carnegie Library was built in 1904, but has not been a library for more than 50 years. The Niles Chamber of Commerce used the building for decades, but it has been unoccupied since 2017, and has a host of issues that go along with its age.
"When we first went in, we looked at it and immediately wanted to walk out because the lower level is below ground," Koebel said. "The walls had a surface mold or mildew on them and I was like, 'I have no desire for this whatsoever."
But once the Koebels saw the rest of the building, they saw a place that could fit their vision. There is, however, a lot of work to be done.
"We're going to totally gut the basement," Koebel said. "We're hoping there's brick walls behind this cheap wallboard, so that would be perfect for a comedy club. New carpet, seating, a stage needs to be built, green room, we have to handicap the bathrooms, put in some bars, PA system, lighting."
The main level will be a comedy club and the fourth floor will contain a speakeasy for overflow and people waiting for the show.
"When you come in, it's going to have library books, it's going to have lamps on the tables, it's going to have barrel back chairs," Koebel said. "It's kind of a front for the comedy club."
The Koebels also have partnered with Sean Shank, who has previous experience as the general manager of Funny Bone in South Bend back in the 1990's. Shank will book the venue, which will also host open mic nights and have classes.
motivation
After the word of the purchase spread on Facebook, there were several naysayers in the Niles community regarding the purchase of the building. The detractors inspired a long post from Sheila Koebel.
"Please know that there is so much more to this than the $100 that five of you seem so hell are on constantly bringing up," she said, in the post. " I learned early on when I moved back to Niles, that someone could swim out to save a drowning dog in the ocean and SOMEONE will come on here and complain that you're starving the sharks! Please get the facts before you start insulting someone who has done nothing wrong but make an offer to buy a vacant building and bring people together for laughs and positive JUJU!"
Koebel has plenty of experience with negativity, though. She grew up in foster care with no parents, and always used comedy to brighten up her life.
"I used humor to get me through so many dark times," she said. "If people realized how much negativity affects your mindset and how you go through life, they wouldn't have a negative thought again. It's just toxic."
This kind of negative energy is exactly what the new owners are trying to combat with the new venue, which will be calledUnderground Laugh Lounge."
"Don't you just feel good when you leave a place after getting a good belly laugh?" she asked. "People need a place to laugh."
The venue is expected to open by September 2023.