Investigation Discovery's 'Killer 90s Week' gets its start on Sunday (August 7) ​​by revisiting one of the most notorious criminal cases of the decade through a fresh, social media–influenced lens.
The new two-hour documentary special Menendez Brothers: Misjudged? covers the case of Erik and Lyle Menendez, wealthy scions of a Beverly Hills clan who were convicted in 1996 of the murder of their parents. Although the two brothers testified that they had suffered a lifetime of sexual, physical and emotional abuse from their parents prior to the killings, they were still given life sentences.
In recent years the case has generated renewed interest among a younger generation, with TikTok posts about the brothers' story racking up nearly one billion views. With younger people taking a closer look at the trial and questioning how the brothers were treated by the court, and as popular culture is increasingly reflecting on how issues such as sexual abuse and trauma have been handled and discussed in public discourse in the past, Lion Television US thought it was the ideal time to revisit the Menendez affair.
Allison Corn and Stan Hsue, co-presidents of Lion Television US, said the decision to return to the case was an easy one, as it's an attention-getting, stranger-than-fiction story.
"On the surface, there are two attractive brothers from Beverly Hills who brutally killed their parents and tried to get away with it," Corn and Hsue told real screen. "But beyond the headlines, punchlines and unbelievable twists and turns, there is depth, complexity and pathos to the story that still grips our attention three decades later. There are so many layers to this story; I have no doubt we will be discussing it for many years to come."
Corn, Hsue, Jennifer Silverman and Steve McLaughlin are executive producers on Menendez Brothers: Misjudged?which will be available on Discovery+ the same day it airs on ID.
Corn and Hsue spoke to real screen via email to discuss the upcoming documentary.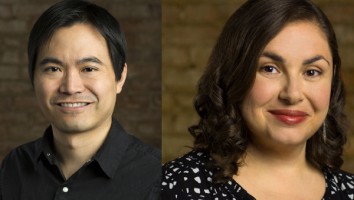 What interested Lion about a doc on the Menendez brothers?

It's a story we've wanted to revisit for quite some time. It's such a well-known and oft-told tale, but over time it's been reduced to a few indelible images and ideas: the Beverly Hills mansion, the Rolexes, the Porsches, and two spoiled, handsome brothers shedding crocodile tears. But what's been lost is the sadness and the tragedy at the center of the story, in particular the incredibly shocking allegations of abuse that were central to the brothers' defense.
When we became aware of the TikTok movement supporting them, as well as potential new evidence supporting their case, we knew it was time to look at the story with fresh eyes.
What makes now a good time to revisit this story, more than 25 years after the brothers' conviction?
The world has changed so much in the past 25 years, and viewing that progress through the lens of this story is revealing. One of the biggest changes is the way society has come to grips with the reality of sexual abuse and trauma, in particular the sexual abuse of boys. At the time, neither the media nor the criminal justice system was equipped to treat the claims seriously. That's why they became a punchline.
[Now]in the wake of the #MeToo movement, as well as scandals engulfing every[thing] from the Catholic Church to the Boy Scouts, we, as a culture, handle stories like this with far more empathy and sensitivity. In this day and age, even the least sympathetic version of this case is no laughing matter. It's unlikely that anyone would make jokes about two kids killing their parents in such a brutal manner.
This story also forces us to take a good hard look at our criminal justice system and how it has changed over the years. If the brothers were on trial right now, there would likely be a radically different outcome.
What kind of effect did social media have on generating renewed interest in this story?

It's been extraordinary. The movement has introduced the story to a whole new generation born 10 or 15 years after the murders. They just now are learning about the story for the very first time; they're not just skimming the facts, but watching the entire trial from gavel to gavel.
The doc includes an exclusive interview with Lyle Menendez. What was the process involved in securing this interview, as well as the involvement of other key players in the story?

We were able to get in touch with Lyle through his wife Rebecca, with the help of Cliff Gardner, Lyle's appellate lawyer. Then, we had a series of conversations with Lyle to establish a rapport with him and make sure he felt comfortable with Lion TV and the project. As for other key players, the challenges were, of course, both time and a hint of fatigue. With such a high-profile case, they still get many requests.
What other challenges did your team face during production?

In the age of COVID, shooting the interviews with TikTok influencers who are scattered across the globe (and, in some cases, not yet 18) posed an interesting challenge. Thankfully, we were able to figure out a way to shoot remotely, which we thought fit seamlessly into the creative of the special.
Another challenge was striking the right balance in terms of audience. The typical ID viewer is a true-crime sophisticate who knows this case like the back of their hand, but we also acknowledge that some viewers will learn about it for the very first time when they watch our show. Our hope is that our storytelling will keep both audiences hooked to the very end.
What do you think that the renewed interest in this case via TikTok and social media shows us about how modern perspectives can shed new light on old true-crime cases?
They are showing us, once again, that no case is trapped in amber. These stories are living, breathing narratives that keep evolving over time. In another 20 years, we may have an entirely new perspective.
How does this new doc special fit into Lion TV's overall slate of content? What does it represent about the kinds of stories the company is interested in telling?
True crime has been a pillar of our business for nearly a decade, and some of our most successful projects have explored the intersection of true crime and popular culture. We also pride ourselves on our archive-driven storytelling, and this case has arguably one of the richest archival troves in recent memory.
What does this documentary indicate about the direction you hope to take Lion TV in, and the kind of content you want to explore under your leadership?
This is exactly the sort of high-profile and ambitious true-crime programming we are focusing on for the future. It's provocative and sparks a heated debate, which we embrace. And while the narrower story is gripping [in itself], when we zoom out, we tell an even richer story about where we were currently are as a society. Those are examples of the hallmark extra layers that elevate our true-crime content.
.