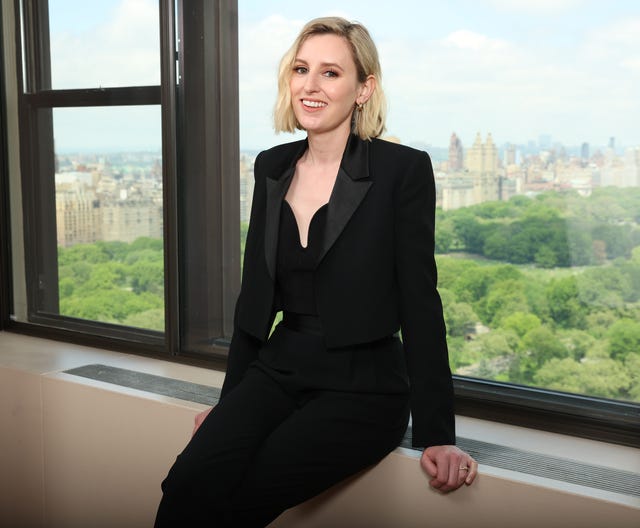 Monica SkipperGetty Images
There are some roles, for some actors, which will always define them. For many, Laura Carmichael is indelibly Downton Abbeys Lady Edith, the initially spiky, yet complex middle sister of the Grantham daughters. Such is the cultural dominance of Julian Fellowes' period drama juggernaut, which has now spanned five seasons and two films over 12 years. It's not something – at least for now – which appears to bother Carmichael, who is currently graciously video calling me from a hotel bathroom in Chichester while on a family holiday. ("Apologies for the dodgy background, but the WiFi is weirdly better in here!" she laughs.)
"I feel so lucky to have played Edith," she says, thoughtfully assessing the role which made her name. "In a big ensemble show like that it is amazing to be given such interesting storylines, such a journey as the one she had." She says she cherishes her time on Downton; viewing the cast as "genuinely like a family" and revealing she will always be willing to return, should Fellowes plan another film. "It's a gift to work on that show, and I don't think any of us are unaware of that. It's a real joy…"
Carmichael landed the role three years after she graduated from drama school and was attracted by how markedly different the character – who was initially almost the villain of the piece – was from the ingénues she had played up until then. "To me, she was one of the more intriguing characters," Carmichael remembers. "She was this unlikeable outsider whose motivations you really had to discover over time. I just felt like it was such a gift for an actor to play someone who had a pain she was privately experiencing, which then meant that she behaved in a certain way outwardly. As a performer, when you're given scenes that really explain who a person is, in a way that's not shoving it down your throat, but feels truthful, it's beautiful."
It was this same desire to play a different sort of character which led her to her latest role. This week, Carmichael returns to our screens for the second series of the hit BBC show, The Secrets She Keeps, playing Agatha Fyfle – a pregnant supermarket worker who forges a friendship with a fellow pregnant 'mummy blogger' while hiding a dangerous and devastating secret that, by the first season's finale, threatens to destroy them both. The first season of the Sydney-set narrative, based on the bestselling 2017 novel by Michael Robotham, was a huge success, and drew particular praise for Carmichael's enthralling performance as the troubled, but treacherous, Agatha.
"I remember I was wishing for a part like this," she says, of when she first accepted the role back in 2020. "She was just a completely different character and the process of playing her was very immersive. I had to do a real deep dive into her backstory and really live with her. That was very satisfying as an actor, and it's something that you crave doing."
Agatha's actions are often indefensible, but stem from her own trauma – something which will be more deeply investigated in the second season. "The show really dives into the question of, how does someone get to that space? Why is she doing what she's doing? And I think that's what all performers really enjoy: getting to the heart of a character's motivation." I ask if she enjoys seeking out complicated and often not immediately likeable roles. she laughs; "Probably, but I think that it is really about the writing and if it sparks something in your imagination about how you would do it. It's also about getting the chance to work different muscles when you take on characters like this."
Motherhood takes a central role in The Secrets She Keeps; the anguish of losing a child, the performative sheen of parenting versus its often thorny, exhausting reality. "I was really drawn to that approach – looking at the psychological torture and the pressures of wanting to be a mother and not being able to, and how those pressures can be external and internal," she says. "I think, as an audience, you are allowed to empathize with Agatha and to feel for her, despite the awful things she does, which I think is always more interesting than just being the baddie…"
The external veneer of parenting is also neatly skewered – though with rather violent consequences. "In the first series, we see how Meghan presents herself as this perfect mother through being a blogger and an Instagrammer and Agatha falls in love with her and covets her life, even though both of them are keeping huge secrets from the other," Carmichael observe. "I thought that was very interesting and appeals to the way we are living our lives now: presenting a version of ourselves that may not be the reality."
In-between filming seasons one and two, Carmichael became a mother herself; welcoming a son, Luca, with her long-term partner (and fellow Downton actor) Michael C. Fox, in March of last year. We discuss how loath we are to strip away an actor's imaginative powers while acknowledging that her experience of first-time motherhood could not fail to come to bear on a role so centered on the anguish of wanting a child. "I just felt like things were much closer to the surface," she says. "and because you have an experience of it yourself, that love is very present. Your imagination is so, so key, but I guess if you have your own memories to draw from, it just makes things feel that bit more accessible."
Next up, Carmichael is keen to take a break, to fully immerse herself in the new parenthood she says she is "thoroughly loving so far" and plan her next move. "I'm reading a lot and looking at scripts," she says. "It has to be the right project. At the moment, I think, I would love to do a comedy and hopefully one day more theatre, which I adore so much. Nothing beats it."
But for now, she has a family holiday to get back to, and a hotel bathroom to get out of.
All episodes of The Secrets She Keeps are available now on BBC iPlayer.
This content is created and maintained by a third party, and imported onto this page to help users provide their email addresses. You may be able to find more information about this and similar content at piano.io
.