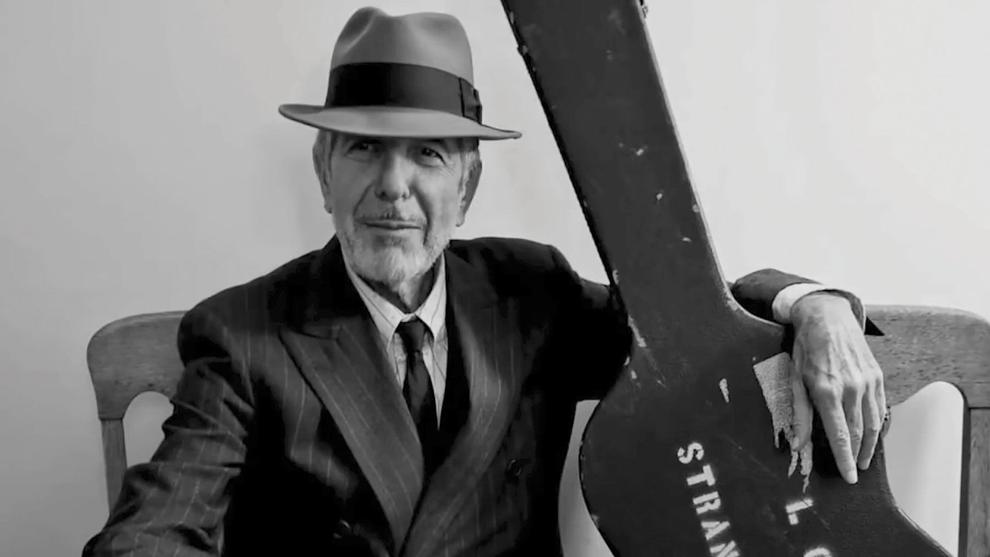 Is it just me, or has "Hallelujah" turned into "The Aristocrats" of songs? Just like that notoriously dirty joke — the subject of a 2005 documentary in which many comedy icons give their own distinctive, disgusting spin on the bit — the song has been remade in myriad ways.
That's what you find out halfway through Hallelujah: Leonard Cohen, a Journey, a Song, a new documentary about the celebrated tune and the Canadian singer-songwriter who wrote it. Cohen was also the first person to redo the song. It was originally a spiritual number, part of an album Columbia Records didn't release because then-president Walter Yetnikoff just didn't like it. By the time Cohen began singing the song live on tour, there were whole new lyrics. It was more secular, with verses involving intercourse and being tied to a kitchen chair.
When Cohen got his own tribute album — 1991's I'm Your Fan: The Songs of Leonard Cohen — The Velvet Underground's John Cale did a cover merging both Cohen versions. It's a rendition that rising '90s musician Jeff Buckley would angelically sing right up to his untimely death in 1997. (His version was for a long time the one I remember the most, especially after hearing it on an episode of The OC)
"Hallelujah" has been sung in many different arrangements by many different performers. The first Shrek movie had a G-rated version of Cale's take on the song. (A cover by Rufus Wainwright appeared only on the soundtrack album — Cale sang the truncated version in the movie.) That particular version tends to be the go-to song for those looking to impress Simon Cowell on a reality talent show.
Inspired by Alan Light's 2012 book The Holy or the Broken: Leonard Cohen, Jeff Buckley, and the Unlikely Ascent of "Hallelujah," directors Dan Geller and Dayna Goldfine basically make the case that the song is the new "Yesterday" — a moving anthem that's been performed so often by so many that, even if you're not a fan, you must know the words by now. But the history of "Hallelujah" is just a small but fascinating section of Hallelujah, which spends most of its run time recounting Cohen's life in a respectful, restrained manner. Cohen is mostly presented as an insightful, aloof, wandering poet, creating monotonously sung, bleak and bitter tunes that were mostly inspired by either religion, the human condition or women he loved and lost. Call him a brave, depressed Bob Dylan. (You probably won't be surprised to learn that Dylan used to perform "Hallelujah" live.)
As much as Geller and Goldfine assemble a flattering chronicle via archival footage/audio and interviews with friends, collaborators and admirers (what up, Eric Church!), they don't delve that deeply into the man's personal past. The two kids he had with artist Suzanne Elrod are mentioned practically in passing, and you certainly won't hear much about his '60s romance with muse Marianne Ihlen.
Considering how Cohen's life has already been the subject of several documentaries (Kurt & Courtney director Nick Broomfield tackles the Cohen-Ihlen relationship in 2019's Marianne & Leonard: Words of Love), it seems like Geller and Goldfine just wanted to remind people of what this cult troubadour accomplished. Even in his later years, he recorded music and did shows — right up until his death in 2016, at age 82.
The doc fails to mention that Cohen died two days before Trump was elected, as well as how that week's Saturday Night Live opened with Kate McKinnon, in character as Hillary Clinton, sitting at the piano singing — you guessed it! — "Hallelujah." It's a shame Cohen left before he got to see that melancholic but soothing performance. As someone who believed that making a joyful noise is sometimes the appropriate response when life gets batshit, Cohen might've dug hearing his song calm the masses after we all went through the Most Batshit Thing Ever.
.