A display of emotion by late actor Paul Sorvino at the 1996 Academy Awards has gone viral.
The proud father was watching his daughter, Mira Sorvino, accept the Oscar for Best Supporting Actress. Paul Sorvino's life and career is being celebrated by millions online after he died at the age of 83 on Monday.
The actor's death comes just months after the passing of his Goodfellas co-star Ray Liotta, while other notable actors synonymous with mafia projects like James Caan, Tony Sirico and Paulie Herman have all died in 2022.
Paul Sorvino was was a star of the stage and screen whose work spanned seven decades. Since his death, his family and co-star have paid tribute, while others have celebrated his career and his reputation off-screen.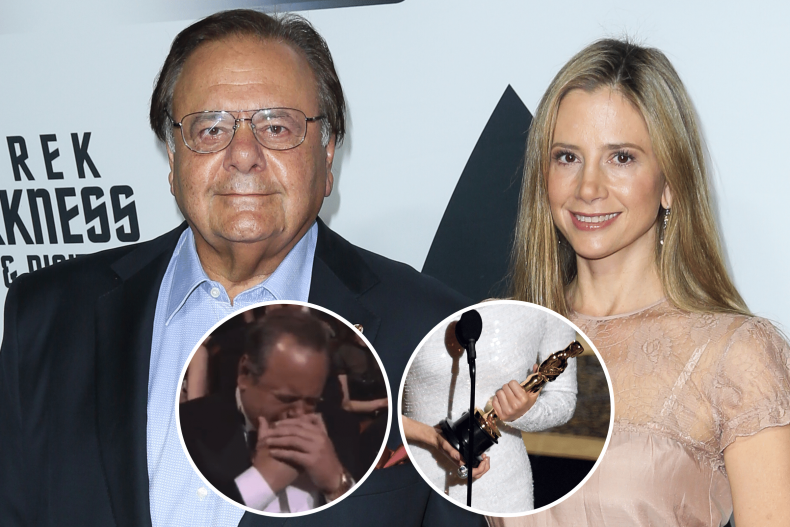 The aforementioned clip at the 1996 Oscars shows Mira Sorvino accepting her award for her role in Woody Allen's Mighty Aphrodite. "When you give me this award you honor my father, Paul Sorvino who has taught me everything I know about acting," Mira says in her speech as the camera cuts to Paul Sorvino whose head drops into his hands, "I love you very much , daddy." By this stage Paul Sorvino is visibly sobbing.
The clip was re-shared by @keatonkildebell on Twitter and gained over 2.1 million views, with thousands of users liking, commenting and retweeting the sweet video. The moment was also shared on TikTok, where many more complimented the sweet reaction.
"Rip my sensitive king," wrote @keatonkildebell when sharing it. Many others pointed out that it was a typical "Italian dad" reaction from a man with a tough exterior but is incredibly sensitive when it comes to family.
"Us Italians DO love our families, and are not ashamed to show it in public," @gbponz wrote.
Actor John Carroll Lynch (American Horror Story) called Paul a "beautiful actor" when retweeting the clip. Blog account DaDa Rocks! also called the clip one of the "great moments in fatherhood."
"Forget Goodfellas, this is all Dad all the way," wrote New Zealand entrepreneur Paul Brislen, stating that this is his favorite Paul Sorvino moment.
Columnist Amy Alkon also continued the praise for Paul Sorvino, and shared her personal experience with him. "Paul Sorvino was a gentleman and a lovely person. We once hung out at a cocktail party in NYC, and he spent the entire time talking about his daughter and how proud he was of her, and why," she wrote.
Paul Sorvino has also been celebrated for another resurfaced clip which showed his reaction to Harvey Weinstein revelations made in 2018. He said at the time that he'd strangle anyone who disrespects women and that he'd "kill" Weinstein for blackballing his daughter in Hollywood.
After his death, daughter Mira wrote a sweet tribute to her father, "He was the most wonderful father. I love him so much. I'm sending you love in the stars Dad as you ascend."