NEWS | FEATURES | PREVIEWS | EVENTS
originally published: 08/03/2022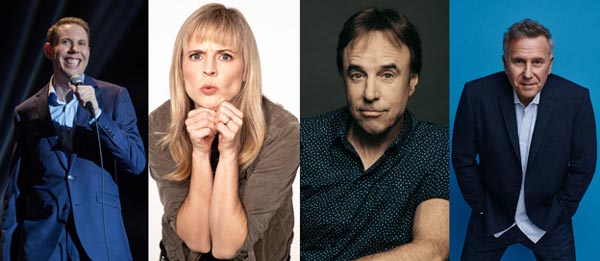 (SOUTH ORANGE, NJ) — South Orange Performing Arts Center (SOPAC) has announced the lineup for their 2022-23 season, which kicks off September 9th with comedian Ryan Hamilton. In addition to Laughs in the Loft hosted by Joe Larson, which takes place on the first Wednesday of each month, SOPAC has a number of comedy shows scheduled. Performances by Maria Bamford, Kevin Nealon, and Paul Reiser are coming up in September and October.
Here's a look at the comedians coming to SOPAC.
Ryan Hamilton – Friday, September 9 at 8:00pm. The epitome of resilience, Hamilton is back on tour following his recovery from car accident-related injuries. Ryan Hamilton's Netflix Comedy Special, Happy Face, has been reviewed as "the special you can't watch enough times." It has been followed by a wealth of television appearances and touring. Armed with the unique perspective of growing up in rural Idaho to become a favorite in the New York stand-up comedy scene, he's one-of-a-kind. He's been named one of Rolling Stones Five Comics to Watch and his recent appearances include The Tonight Show Starring Jimmy Fallon, The Late Show with Stephen Colbertand Conanas well as opening spots for Jerry Seinfeld and Jim Gaffigan. Tickets: $28-$35.
Maria Bamford – Sunday, September 11 at 7:30pm. Maria is revered for her deeply personal and experimental comedy about mental illness. She starred in the surreal, semi-autobiographical Netflix comedy series Lady Dynamiteabout a comedian who suffers a nervous breakdown, and is the star of three unconventional hour-long stand-up specials: Weakness is the Brand, Old Baby and Maria Bamford, the special, special, special! Maria was the first female comic to have two half-hour Comedy Central Presents specials and starred alongside Patton Oswalt, Zach Galifianakis and Brian Posehn in the Comedy Central series The Comedians of Comedy and Netflix's Comedians of Comedy: The Movie. She also created and starred in the cult hit web series The Maria Bamford Show, in which she plays all the characters. Tickets: $30-$45.
Maria is often recognized for her prolific voiceover work, including characters on Big Mouth, BoJack Horseman, Summer Camp Island, Adventure Time, Talking Tom and Friends, Bob's Burgers, Legend of Korra, Puss in Boots, CatDog and PBS's Emmy-winning series Become a girl. She also stars as Tilly Mulch in Team Coco's scripted podcast Frontier Tween. Maria played DeBrie Bardeaux on Netflix's Arrested Development and recurring on the ABC hit series Fresh off the Boat. She is the 2014 winner of the American Comedy Award for Best Club Comic. Maria's late night appearances include CONAN, The Tonight Show, The Late Show with Stephen Colbert and Late Night with Seth Meyers.
Advertise with New Jersey Stage for $50-$100 per month, click here for info
---
Kevin Nealon – Sunday, October 2 at 7:30pm. Emmy and SAG-nominated actor, comedian and author Kevin Nealon is best known for his nine-year stint as a cast member of NBC's Saturday Night Liveand has received critical acclaim for his role in the Showtime series weeds. Tickets: $35-$53.
Nealon's self-produced, edited and hosted web series Hiking with Kevin is exclusively available on his YouTube channel of the same name. In the series, Nealon interviews his A-list celebrity friends on hikes throughout the country.
Most recently, Nealon starred in CBS's Man With a Plan during all four seasons. Nealon's extensive television credits include Globen Globe and SAG-nominated weedsthe titular voice role of Glenn Martin, DDStwo critically acclaimed stand-up specials for Showtime, and a number of appearances on Monk, Curb Your Enthusiasm, Still Standing and more. His extensive film career includes projects such as Anger Management, Eight Crazy Nights, The Wedding Singer, Happy Gilmore, Just Go With It, You Don't Mess with the Zohan, Joe Dirt, Daddy Day Care, Roxanne, and Grandma's Boy.
As one of the longest running cast members on NBC's Saturday Night Live (1986-1995), Nealon created some of the show's most memorable characters; his recurring role as an anchor on 'Weekend Update' helped make the sketch a show staple. In 1988, he earned an Emmy nomination as part of the SNL writing team.
Paul Reiser – Sunday, October 9 at 7:30pm. Comedian, actor, television writer, author and musician Paul Reiser is one of Hollywood's most prolific creatives—and he shows no signs of slowing down. Tickets: $38-$58.
Reiser is starring in two hit shows for Netflix: Stranger Things as dr. Sam Owens, in a role created by the Duffer Brothers specifically for Reiser, and Chuck Lorre's The Kominsky Method, for which he received an Emmy nomination for Outstanding Supporting Actor in a Comedy Series. Reiser received rave reviews for the latter, where he delivered a moving soliloquy on life and loss in a scene that MediaPost says "will stand… as one of the finest moments seen anywhere on television." Reiser returned for the third and final season of The Kominsky Method, streaming now on Netflix. The multi-faceted actor also revived one of his most iconic roles in the highly-anticipated return of Mad About You, the long-running hit 90s comedy Reiser co-created and starred in with Helen Hunt. The Emmy, Peabody and Golden Globe-winning comedy ended in May 1999 and premiered 20 years later as a limited series on Spectrum Originals. All seven seasons of the original Mad About You and the reboot are available for streaming on Amazon Prime.
Reiser was also seen on Amazon's Red Oaks for three seasons in a role singled out as "one of his absolute finest, not just of late, but of ever"—and in Mad Men creator Matt Weiner's limited Amazon series The Romanoffs alongside Christina Hendricks and Isabelle Huppert. Additionally, Reiser joined Sam Rockwell, Michelle Williams and producers Lin-Manuel Miranda and Tommy Kale in FX's Emmy-nominated Fosse/Verdon.
Throughout his prolific career, Reiser has worked with both independent and mainstream filmmakers. Reiser earned acclaim for his supporting roles in the Academy Award-winning film WhiplashJohn McDonagh's War on Everyone and frequent collaborator Jeff Baena's The Little Hours and Horse Girl, which premiered at Sundance 2020 and is the fourth film the pair has worked on together. The veteran actor has garnered praise for notable performances in films such as Dinner, Bye Bye Love, aliens, One Night At McCool's, Beverly Hills Cop I/II and The Thing About My Folks, which Reiser wrote for his co-star Peter Falk. Recently, Reiser starred alongside Kevin Hart in the touching comedy Fatherhoodout now on Netflix.
Reiser is a fixture behind the camera as well. He co-created and co-produced There's Johnny!, a seven-episode series which originally streamed on Hulu and now streams on Peacock. The show, co-created with filmmaker David Steven Simon and co-produced with David Gordon Green in conjunction with The Carson Company, premiered to critical praise, with decider saying There's Johnny! is "a television experience unlike any I've seen on TV in recent years" and "unfolds like a dream, a memory fondly recalled."
Reiser's first book, couplehoodsold over two million copies and reached the number one spot on The New York Times best seller list. His subsequent books, babyhood and family hood, were best sellers as well. Reiser regularly performs standup at sold-out venues nationwide and was voted one of the "Top 100 Comedians of All Time" by Comedy Central.
Advertise with New Jersey Stage for $50-$100 per month, click here for info
---
Reiser, a SUNY Binghamton graduate in the prestigious music program, co-wrote the theme song from Mad About You, "The Final Frontier," with Grammy-winning producer Don Was. He released an album of original songs with British singer-songwriter Julia Fordham called Unusual Suspects. Over the course of his career, Reiser has received multiple Emmy, Golden Globe, American Comedy Award and Screen Actors Guild nominations.
Laughs in the Loft Hosted by Joe Larson – First Wednesday of Every Month at 7:30pm. Join us for Laughs in the Loft, a monthly series featuring stand-up comics from our own backyard, Brooklyn and beyond! Each Laughs in the Loft event features several comedians in a New York City-style showcase. The talent has been announced approximately two weeks prior to each show. Tickets: $20.
South Orange Performing Arts Center (SOPAC) is located at One SOPAC Way in South Orange, New Jersey. Since 2006, SOPAC has been serving as a premier performing arts center in the region. SOPAC offers innovative artistic and cultural experiences for diverse audiences in an intimate, inviting environment. The arts center hosts a variety of live performances, community events and education programs for all ages. SOPAC is home for Seton Hall University Arts Council's performances, including the Classical Concert Series, Jazz 'N the Hall performances and Seton Hall University Theater productions. SOPAC programs are made possible in part by the National Endowment for the Arts and the New Jersey State Council on the Arts. The South Orange Performing Arts Center (SOPAC) is a 501(c)(3) charitable organization.
PHOTO: Ryan Hamilton, Maria Bamford, Kevin Nealon and Paul Reiser