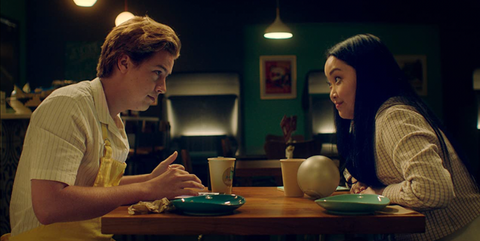 IMDB / HBO Max
You may have mixed feelings about how 2022's going (valid), but at least we can say that it's given us a slew of delightful new romantic movies to watch, and there are so many more coming out this year. From J.Lo's return to early aughts rom-com glory in marry me, to the hotly anticipated adaptation of Sarah Dessen's along for the ride, which is coming to Netflix in April, there's no shortage of films to cry to, sweeping teen dramas to swoon over, and charming meet-cutes to satisfy your sentimental side. Already blown through Bridgerton? Mark your calendars for Hulu's release of Rosalinea twist on Romeo and Juliet, told from the perspective of Romeo's former flame (Kaitlyn Dever). Love an impromptu musical number? Amazon Primes I Want You Back, which you can watch now, is filled with charming moments. You get the point. So whip out those leggings (if you aren't wearing them already), grab a salty snack, and settle in with the best new rom-coms of 2022…so far!
Advertisement – Continue Reading Below
13
Cha Cha Real Smooth
A fledgling recent college grad befriends a young mom (Dakota Johnson) and her daughter in this bittersweet rom-com.
Out June 17, 2022 on Apple TV+
14
Along for the Ride
Based on Sarah Dessen's popular YA novel, Along for the Ride follows a studious insomniac on the verge of going to college, and the boy who helps her capture all the joy she missed out on in high school.
Out April 2022 on Netflix
15
The Valet
In this English remake of a French hit, Samara Weaving plays a famous actress who taps a parking attendant to pretend to be her boyfriend so no one suspects that she's actually entangled with a married man (Max Greenfield of New Girl fame).
Out this spring on Hulu
16
Fire Island
Inspired by Pride & Prejudice or, err, Clueless, this rom-com follows a group of friends on a trip to Fire Island, a top LGBTQ+ vacation destination. But we'll let star Bowen Yang (Saturday Night Live) describe it in his own words. "A Jane Austen narrative meeting an Asian-American narrative meeting a queer narrative: Those three helices come together in a way that's greater than the sum of their parts," he told Vanity Fair. "And to say that something is greater than a Jane Austen narrative is insane, unhinged of me, to do. But I said it." We can't wait.
Out on June 3 on Hulu
18
Shotgun Wedding
2022 will grace us with yet another J.Lo rom-com. this time, she plays a reluctant bride whose destination wedding is taken over by a band of criminals. She and her hub-to-be (Josh Duhamel) get the ultimate couples therapy when they have to work together to save their guests.
Out on June 29 in theaters
19
Your Place or Mine
Reese Witherspoon stars alongside Ashton Kutcher in this upcoming Netflix rom-com, (which she's also executive producing) about two long distance BFFs who trade homes for a week.
Coming to Netflix in 2022
20
Ticket to Paradise
George Clooney and Julia Roberts are divorcees who fly to Bali to prevent their young daughter from getting married, and repeating their mistakes. We don't know much else about the film, but we assume chaos, rekindled love, and stunning scenery will ensue.
Out September 30, 2022
This content is created and maintained by a third party, and imported onto this page to help users provide their email addresses. You may be able to find more information about this and similar content at piano.io
Advertisement – Continue Reading Below